Ajax Relay: The pulse of smart home
Ajax Relay ist ein komfortables Werkzeug, um Prozesse zu Hause und im Büro zu automatisieren. Unser neues Gerät wurde entwickelt, um Low-Power-Geräte fernzusteuern und Fans von unabhängigen Experimenten und professionellen Installateuren zu befreien, deren Kunden immer nach "Smart Houses" fragen.
relay skills
relay contacts können Lasten schalten bis zu 5A mit einem Bereich von 0 bis 36 V DC, und in 110-230 V Netz bis 3 kW. Sie sind galvanisch vom eigentlichen Gerät getrennt, so dass sie an Eingangssteuerkreise verschiedener anderer Geräte angeschlossen werden können, wodurch ein Knopf oder Kippschalter simuliert wird. Für 110-230 V Netzgeräte empfehlen wir den bewährten Wall Switch .
Das Relais schließt und öffnet Kontakte auf dem Befehl des Ajax-Systembesitzers in der Ajax Security System App. Benutzer können das Relais aber auch so konfigurieren, dass es sich beim Aktivieren oder Deaktivieren des Systems automatisch ein- oder ausschaltet. Da das Gehäuse der Vorrichtung relativ kompakt ist – 38х25х18 mm – passt das Gerät leicht in eine Verteilerdose, Schalttafel oder in das Gehäuse von Schaltgeräten.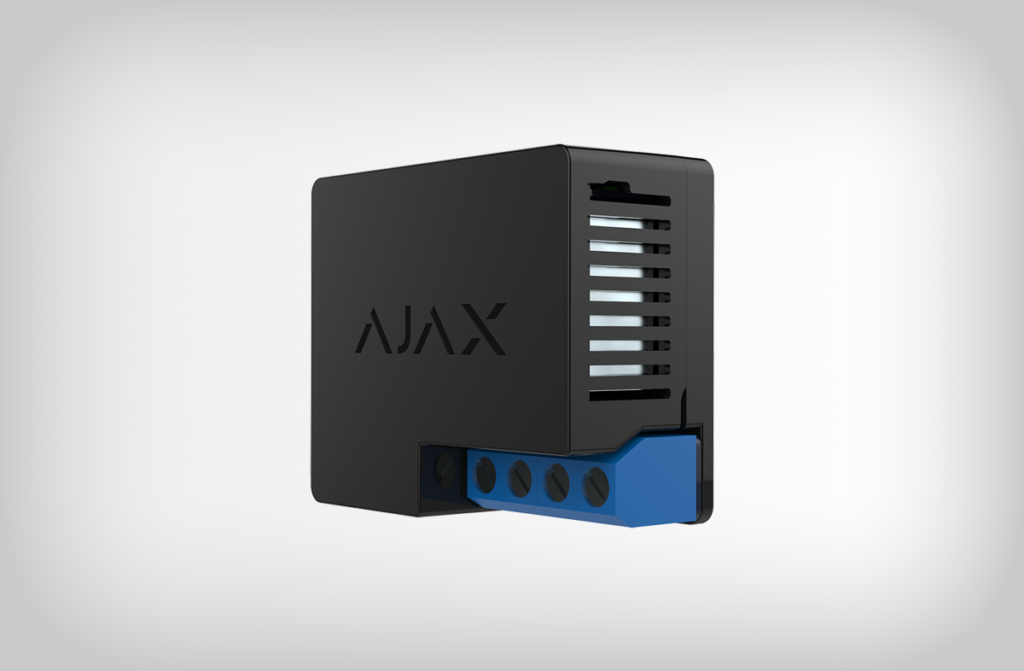 Zusätzlich zur Umschaltung der Relaisbetriebsmodi ermöglicht der mobile App des Ajax Security Systems die Echtzeitüberwachung der Versorgungsspannung des Relais und der Verbraucher, die über das Relais angeschlossen sind, wenn sie aus einer einzigen Quelle versorgt werden. Wenn das Relais und der Verbraucher von verschiedenen Stromquellen gespeist werden, wird nur die Relaisspannung in der App angezeigt. Die App zeigt außerdem das Temperaturniveau im Relais an.
Relay modes
Aus Gründen der Benutzerfreundlichkeit unterstützt unser Relay verschiedene Relaisbetriebsarten und verschiedene Kontaktzustände. Sie können je nach Benutzerbedürfnissen kombiniert werden.
bistable when the contacts close and open as switches.
Pulse when the contacts for 0,5 to 15 close or open seconds and then automatically reverse the action.
Two-stage protection
Um Unfälle und Geräteausfälle zu vermeiden, haben wir unseren Relaismechanismus gegen Überhitzung und Spannungsspitzen geschützt. Es ist dauerhaft aktiviert und kann nicht deaktiviert werden. Wenn die Temperatur, bei der das Relais installiert wird, 65 ° C oder 85 ° C innerhalb des Geräts überschreitet, öffnet das Relais und gibt einen Alarm aus. Sobald die Temperatur wieder normal ist, gibt das Relais ab und sendet die entsprechende Meldung aus.
Es gibt zwei Schwellenwerte für die Versorgungsspannung: der untere Wert beträgt 6,5 V und der obere Wert 36,5 V. Wenn die Leistungsstufe zu hoch oder zu niedrig ist, wird der Schutz aktiviert, das Gerät wird deaktiviert und eine Warnmeldung wird gesendet. Nachdem die Versorgungsspannungsparameter wieder normal sind, gibt das Relais die Benutzer frei und benachrichtigt sie.
How to use the relay?
Schließen Sie Geräte an unser neues Relais an, um keine Zeit mehr für Routineprozesse zu verschwenden. Das bedeutet, dass die Staffel auch eine bemerkenswerte psychotherapeutische Wirkung hat.

Tore und Verkehrsbarrieren . Eröffnet durch einen einzigen Klick in der mobilen App von Ajax Security System, was bedeutet, dass kein lästiger Schlüsselring mehr nötig ist. Die App ist auch mit Passwort und Fingerabdruck geschützt, so dass unbefugte Personen ohne Ihre Erlaubnis nicht darauf zugreifen können.

Rollos und Vorhänge . Kann automatisch geöffnet und geschlossen werden, wenn Leute nach Hause kommen oder ins Büro gehen.

Elektrische Schlösser . Wird gesperrt, wenn das System aktiviert ist, und nach der Deaktivierung geöffnet. Zu überprüfen, dass alles gesperrt ist, war noch nie einfacher.

router . Wenn Netzwerkgeräte über das Relay verbunden sind, kann ein nicht reagierender Router direkt von Ihrem Smartphone aus neu gestartet werden. Der Hub wird sogar weiterhin über den GSM-Kanal arbeiten und die Verbindung über Ethernet nach dem Neustart des Routers abfangen.

Elektrische Ventile . Diese Ventile helfen, die Wasser- und Gasversorgung im Falle eines Unfalls bei Abwesenheit fernzusperren. Sie trennen Dienstprogramme auch automatisch, wenn Sie zur Arbeit oder in den Urlaub gehen.
future plans
Mit zwei umfassenden Automatisierungsgeräten in unserer Produktlinie wäre es töricht, nicht alle Möglichkeiten zu nutzen. Daher werden wir in der nächsten Version des Hub-Betriebssystems voll funktionsfähige Skripts implementieren, damit Benutzer Kombinationen von Aktionen erstellen können. Es wird auch verbindliche Optionen für Ereignisse und Alarme, geplante Trigger und etwas anderes geben.
Quellenangabe: Ajax Systems /21.08.2018/ Hub OS Malevich 2.6: a new level of security / : https://ajax.systems/blog/malevich-2-6/