Hub OS Malevich 2.6: a new level of security
In August 2018, Hub OS Malevich 2.6 will be available for every Ajax Hub.
Das Update bietet neue Funktionen zum Schutz großer Räumlichkeiten, einschließlich Gruppenmodus, persönlicher Zugangscode für Tastaturen und mehr Zugriffsebenen. Darüber hinaus werden Benutzer beim Anschließen an eine zentrale Überwachungsstation mehr Komfort, Kontrolle und Zuverlässigkeit erhalten.
group mode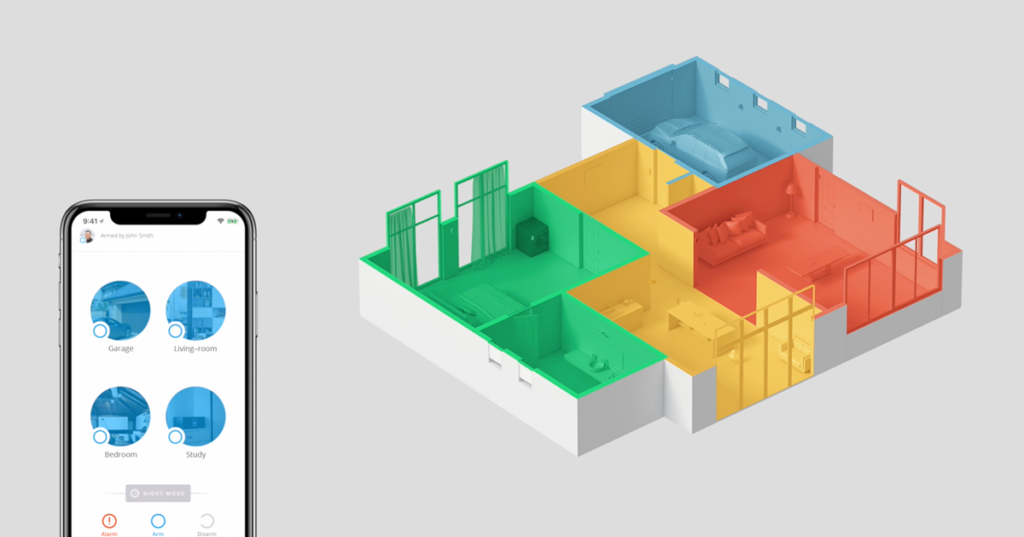 Jetzt können Sie wählen, ob Sie das gesamte Gebäude, ein paar Räume oder auch nur ein paar Detektoren bewaffnen möchten. Insgesamt haben Benutzer nun die Möglichkeit, 9 Gruppen in einem Hub zu erstellen.
Set up the group mode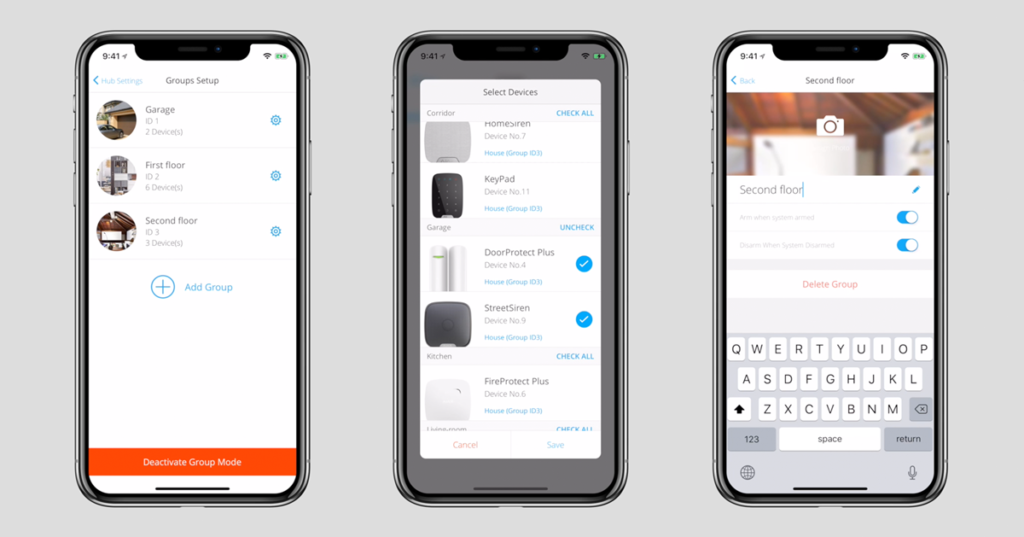 Hub ➞ Settings (gear icon) ➞ Groups
An administrator activates the group mode .
Geräte können nur in einer Gruppe platziert werden. Wenn Sie ein Gerät zu einer neuen Gruppe hinzufügen, wird removed it from the old one.
Administratoren können Gruppen Zugriff gewähren oder entziehen . Wenn der Zugriff widerrufen wird, werden Gruppen aus der App eines Nutzers entfernt. Gruppen können von der Ajax-Systemaktivierung ausgenommen werden.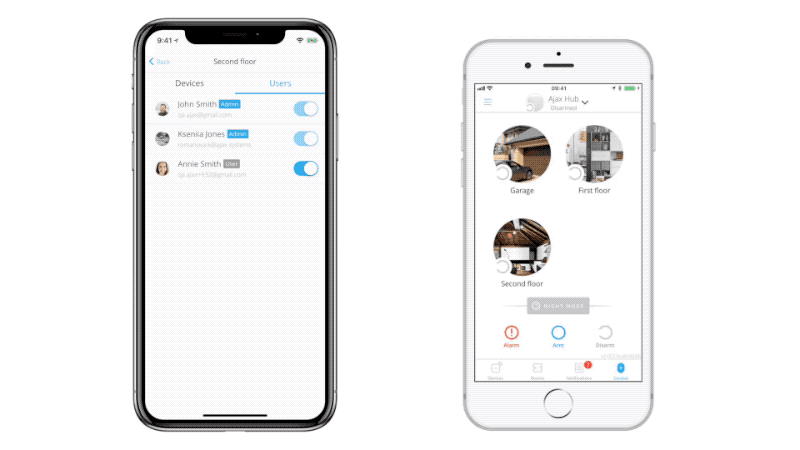 Der Gruppenmodus kann deaktiviert sein. Created groups and settings will continue to be saved.
Control groups with the KeyPad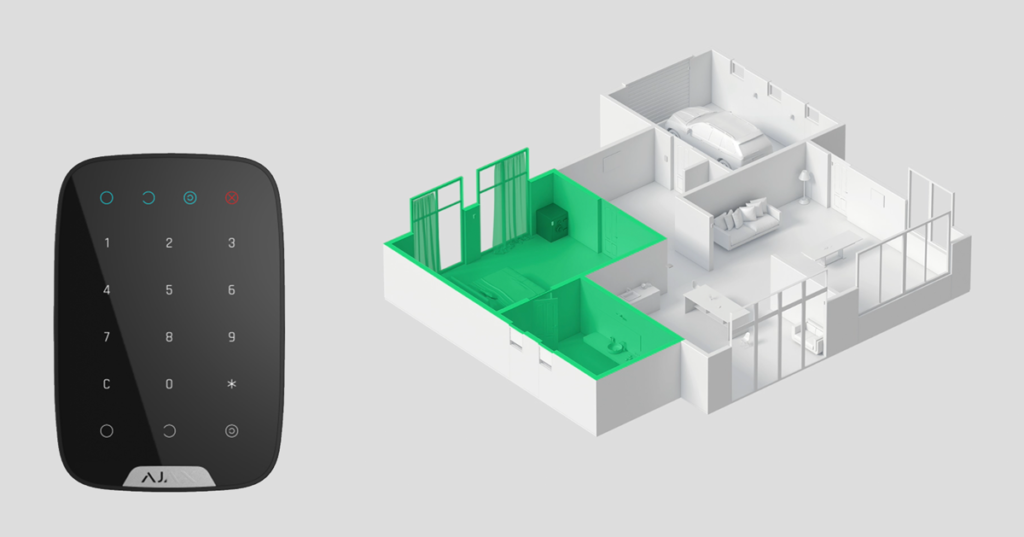 Hub ➞ Settings (gear icon) ➞ Groups
Die Tastatur kann bestimmte Gruppen aktivieren oder deaktivieren. Um dies zu tun, geben Sie einfach Ihren Code ein, tippen Sie dann auf Sternchen ✽, Null (0) und geben Sie die Gruppen-ID ein. Group IDs can be found in the Hub Settings.
Control Ajax
Setting up a key fob and keyboard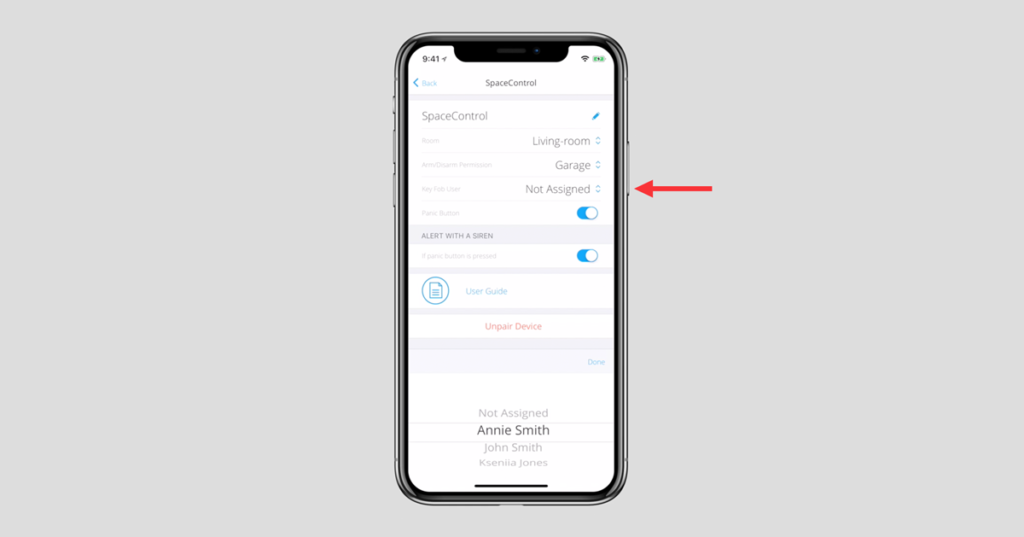 Schlüsselanhänger und Tastaturen können so eingestellt werden, dass ganze Räume oder eine Gruppe scharf oder unscharf geschaltet werden. Dies kann in den Einstellungen des Key Fob oder der Tastatur geändert werden.
The app as a key chain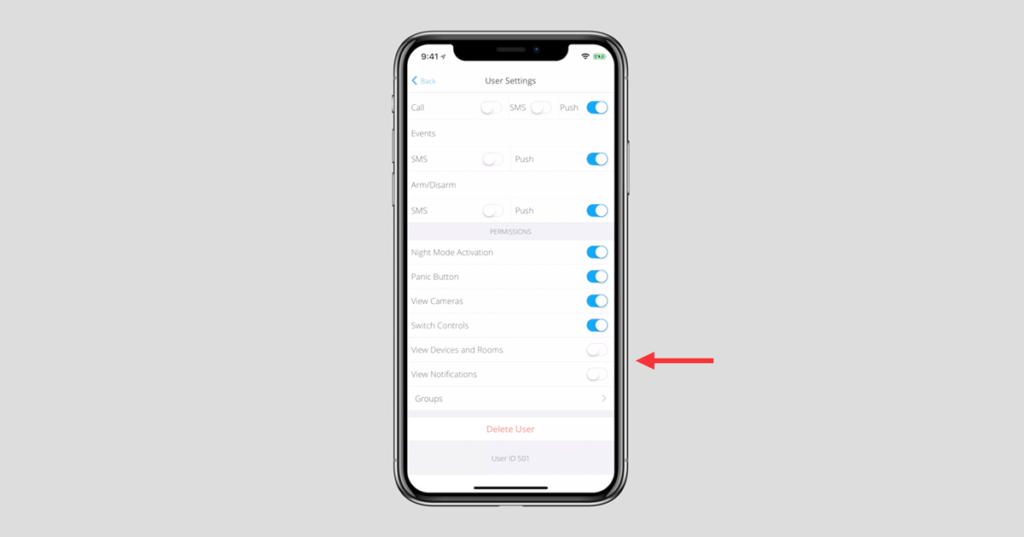 Hub ➞ Einstellungen (Zahnradsymbol) ➞ Benutzer ➞ Benutzereinstellungen (Zahnradsymbol)
Die Registerkarten Geräte, Räume und Benachrichtigungen können allen Benutzern verborgen bleiben. Die Optionen finden Sie in den Benutzereinstellungen: "Geräte und Räume anzeigen", "Benachrichtigungen anzeigen".
Available groups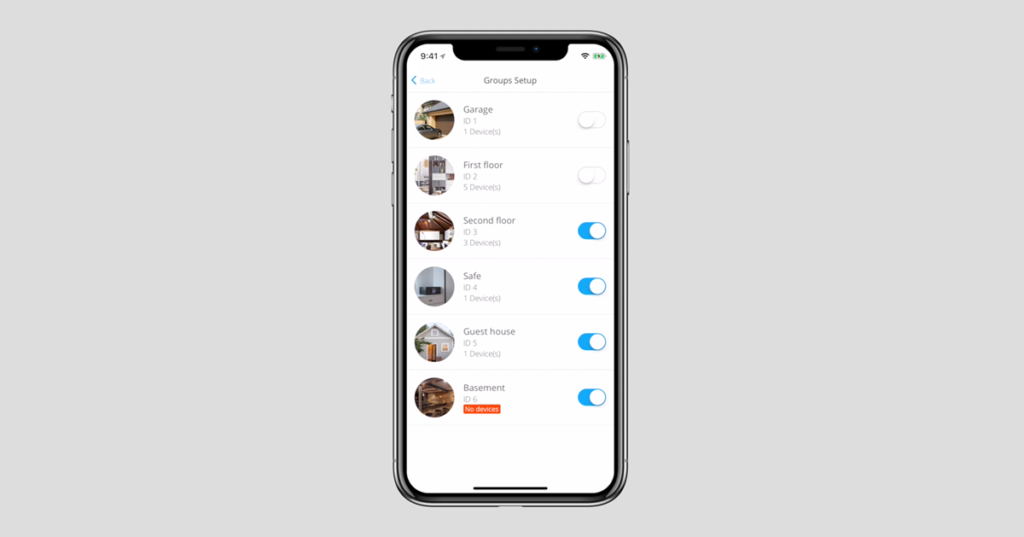 Hub ➞ Settings (gear icon) ➞ User ➞ User Settings (gear icon) ➞ Groups
Users can see restricted the selected groups.
Night Mode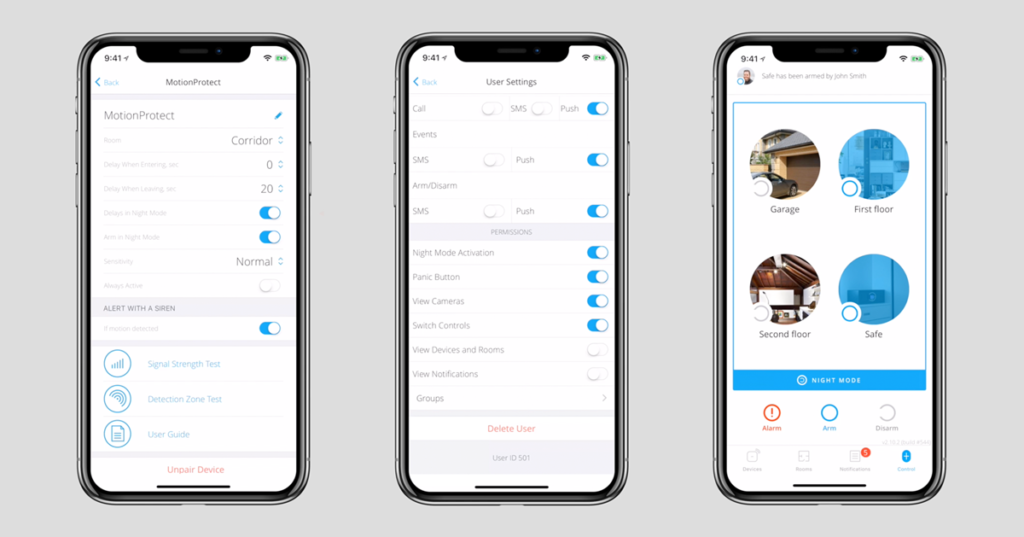 Hub ➞ Settings (gear icon) ➞ User ➞ User Settings (gear icon)
Teilweise Scharfschaltung wurde in Nachtmodus umbenannt. Im Nachtmodus können Sie nur Detektoren aktivieren, die den Umkreis schützen. Diebe schleichen sich nicht in das Haus ein, während du schläfst.
Damit ein Detektor im Nachtmodus arbeiten kann, muss in den Detektoreinstellungen "Arm in Night Mode" gewählt sein. Verzögerungen für das Scharf- / Unscharfschalten können auch im Nachtmodus eingestellt werden.
Administrators can revoke a user's night mode permissions.
Everything under control
Personal KeyPad access codes
Hub ➞ Settings (gear icon) ➞ User ➞ User Settings (gear icon) ➞ Passcode Settings
Each system user can create a personal passcode for the keyboard and a threat code.
Benutzer wählen ihre persönlichen Passwörter. Administratoren können die Codes eines Benutzers weder sehen noch ändern.
Personalized SpaceControl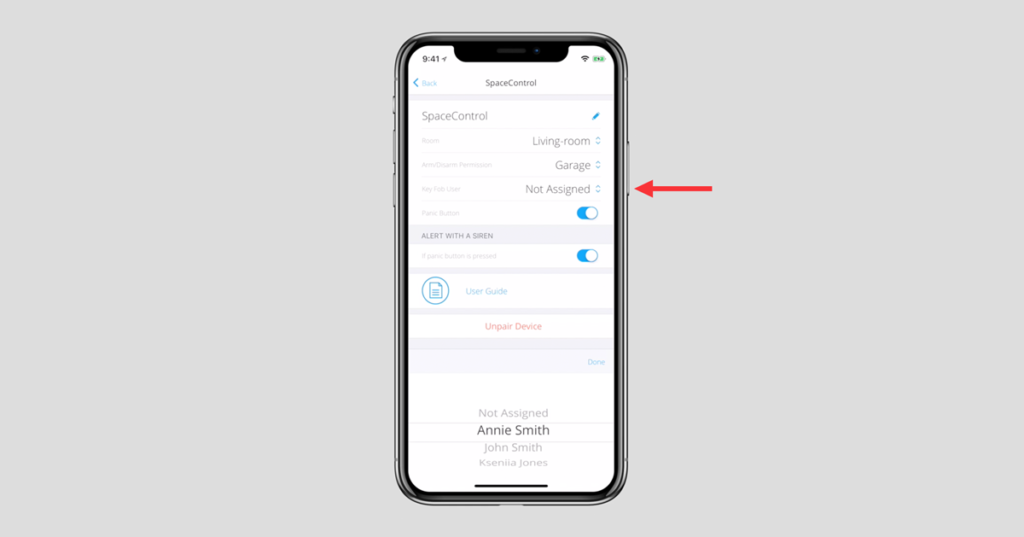 A user can be assigned to a keychain to create personalized keychain notifications.
The Notifications tab has been updated
New events are now displayed on the Notifications tab, including added and deleted groups, rooms, users, detectors, and cameras.
Connection to a central monitoring station
Backup IP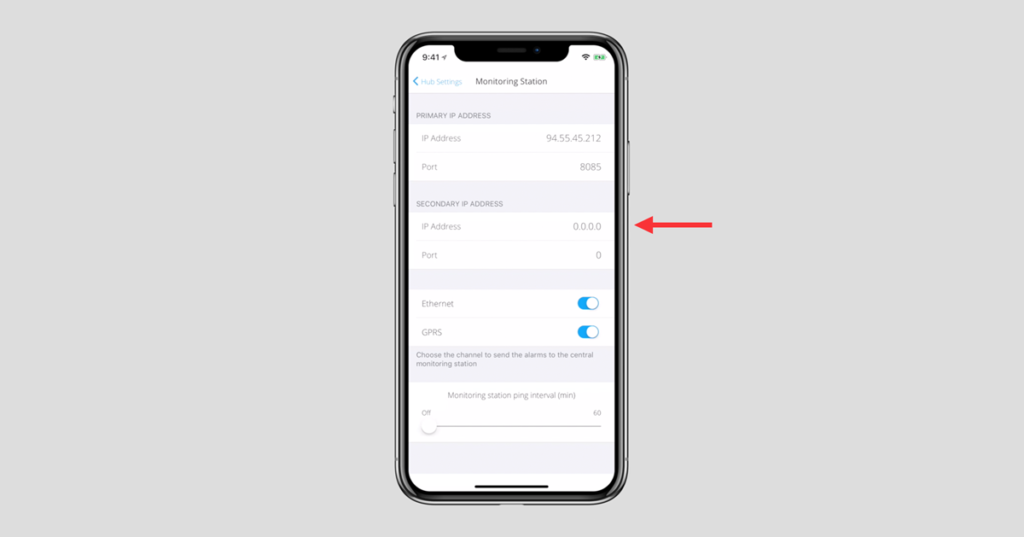 Stroke ➞ Settings (gear icon) ➞ Monitoring station
Two IP addresses can be selected to connect the hub to a central monitoring station.
New client card settings for central monitoring stations
Wenn der Hub eines Benutzers mit einer zentralen Überwachungsstation verbunden ist, werden seine Detektoren automatisch in zwei Gruppen organisiert: Detektoren mit teilweiser Aktivierung und alle anderen Detektoren. Wenn der Gruppenmodus aktiviert ist, werden Melder entsprechend den in der mobilen Anwendung erstellten Gruppen neu organisiert: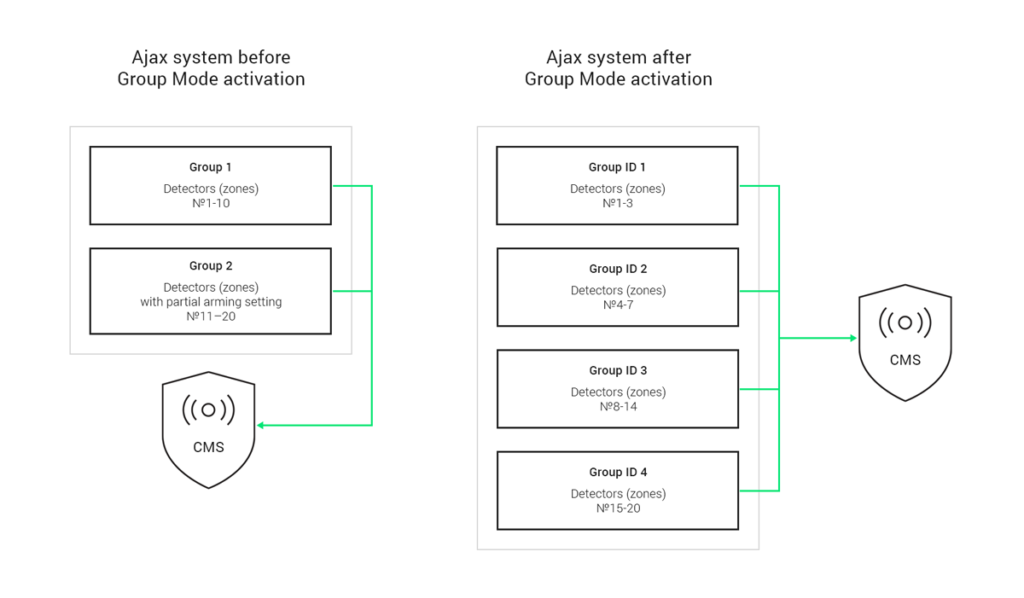 What needs to be reconfigured after activating the group mode from the central monitoring station:
1. Erstellen Sie auf der Karte die gleiche Anzahl an Gruppen wie in der mobilen App.
2. Weisen Sie der Karte die richtigen Gruppennummern zu. Um die Gruppen-ID anzuzeigen, gehen Sie zu Hub ➞ Einstellungen (Zahnradsymbol) ➞ Gruppen. Gruppen wird automatisch eine ID zugewiesen, die nicht geändert werden kann.
3. Verteilen Sie die Detektoren (Zonen) an die erstellten Gruppen .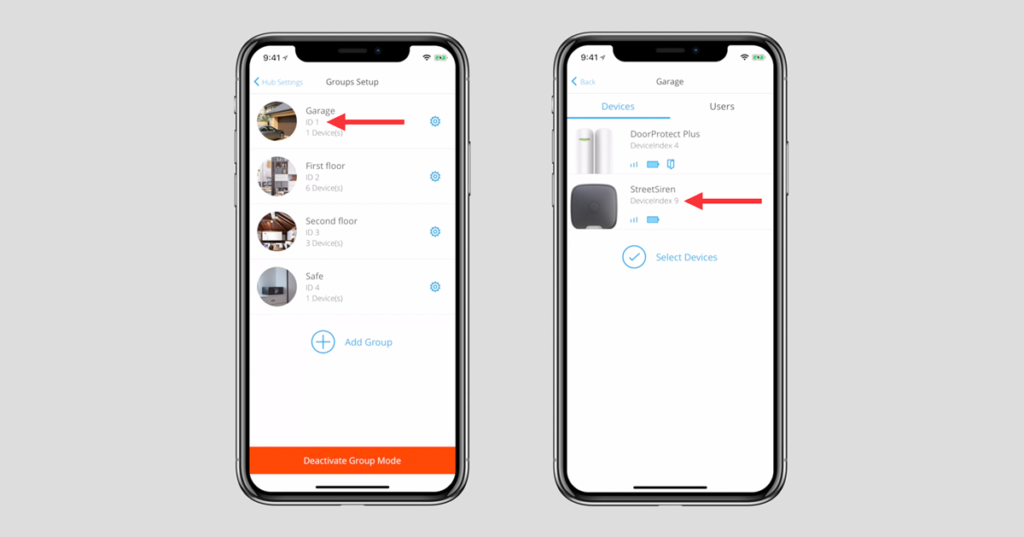 Die Melder- (Zonen) -Nummern können nun in der Gruppengeräteliste unter Hub ➞ Settings (gear icon) ➞ Groups ➞ Group Settings ➞ Devices are displayed.